From GoToCayman.com - the Wiki for Cayman
Cayman FAQ - Weather
Current temperature and time in Cayman:
Temperature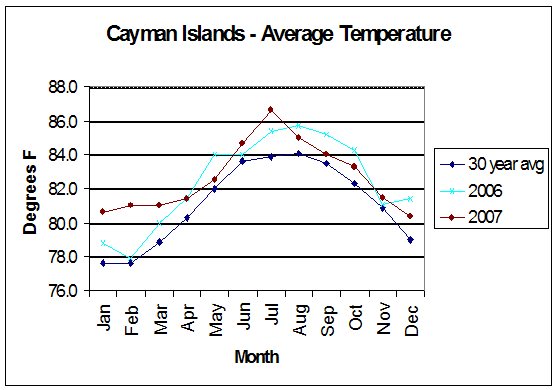 Average humidity for 2007 was 77% with the highest monthly average of 81% in October and the lowest of 74% in July. The highest daily recorded humidity was 92%, and the lowest 61%.
One of the consequences of this high humidity is that wet clothes can take longer to dry than you were expecting; pack an extra set of swimming gear!
Rainfall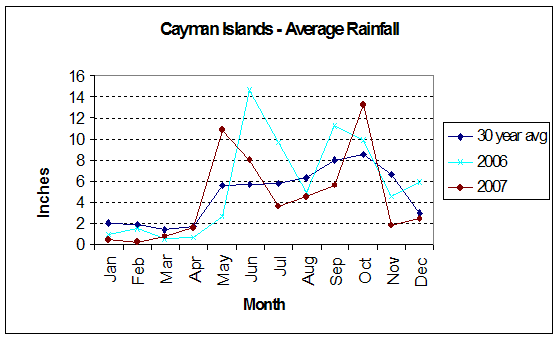 During 2007, the most rainfall in a 24 hour period was 82.3 mm/ 3.24 ins. on October 9th. In 2007, there were 185 days free of rain, and rain was recorded on 180 days. There were 46 days on which thunder occurred.
The average barometric pressure was 29.94 inches (1014.0 mb). The highest reading of 30.23 inches (1023.8Mb) on 19th February. The lowest pressure recorded of 29.65 inches (1004.3mb) was when Hurricane Wilma passed by. Average wind speed for the year was 9 knots from the East-southeast. The windiest month was March.
Peak tourist season is mid-December to May.
The rainy season runs from mid-May to November. It is not uncommon for it to be raining at one end of the island, but have brilliant sunshine elsewhere, so it can be worth going for a drive to see another part of the island and find the sun. Usually when it rains, it rains heavily for a couple of hours and then stays clear for the rest of the day. However, if a tropical depression settles over the island, it can rain for days on end, with flooding causing severe problems.
Hurricanes
The hurricane season runs from June to November - it tends to be the hurricanes that start in the Caribbean waters (at the end of the season) as opposed to those that develop of Africa (earlier in the hurricane season) that cause most damage to the islands. The most recent brushes with hurricanes, were Hurricane Ivan which hit in September 2004 and caused damage estimated at CI$2.8 billion - see the news reports for News from Cayman - September 2004 onwards. The islands were also hit by Hurricane Gilbert in September 1988, which passed 30 miles south of Grand Cayman, and Hurricane Mitch in October/November 1998 passing about 200 miles to the south.
Hurricane Michelle in November 2001 caused considerable damage on the south and west sides from South Sound all the way round to Northwest Point. (See News from Cayman - November 2001 for more details.)
However, a couple of tropical storms have also caused damage in Cayman in recent years.
During the 2003 storm season, only one storm, Tropical Storm Claudette, moved through the northwest Caribbean. Claudette passed 160 miles southwest of Grand Cayman on 10th July. The storm produced cloudy skies, fresh winds and rough seas on 10-11 July and 2.89 inches of rainfall was recorded.
Even though the hurricane season was fairly uneventful, the Cayman Islands did experience some severe weather events in 2003. Heavy rain caused major flooding on 19 January and 27 June in Grand Cayman. The very high rainfall total in January was particularly unusual and included the highest 24-hour total since records commenced in 1957. This single 24-hour total on January 18th also exceeded any previous January total on record. Flooding in both cases was localized to southwestern Grand Cayman.
During the 2002 storm season, Tropical Storm Isidore passed 9 miles north of Cayman Brac, 12:00am on 19th September. Peak wind speed was recorded at 61 knots or 67 mph in the Brac. Rainfall accumulation of 21.74 inches was recorded between 7:00pm on 18th September and 6:00pm on 19 September in Cayman Brac and 13.10 inches were recorded in Grand Cayman 17-21 September. The storm knocked down a few light poles and caused minor damage to buildings with total damages estimated at $30,000-$35,000. Isidore became a hurricane north of the Cayman Islands, eventually becoming a category III hurricane in the Gulf of Mexico.
Tropical Storm Lili passed 4 miles north of Cayman Brac 9:00am 30th September. In the Brac a peak wind speed of 51 knots or 57 mph and rainfall of 3.91 inches were recorded between 7:00pm 29th September and 7:00pm the following day. Locals also reported a few twisters. Damage costs for this system were estimated between $312,500 and $500,000, mostly in the Sister Islands. Lili became a hurricane northwest of Cayman Brac and eventually became a category IV hurricane in the Gulf of Mexico.

For links to weather sites/hurricane tracking information please see the Weather Resources page